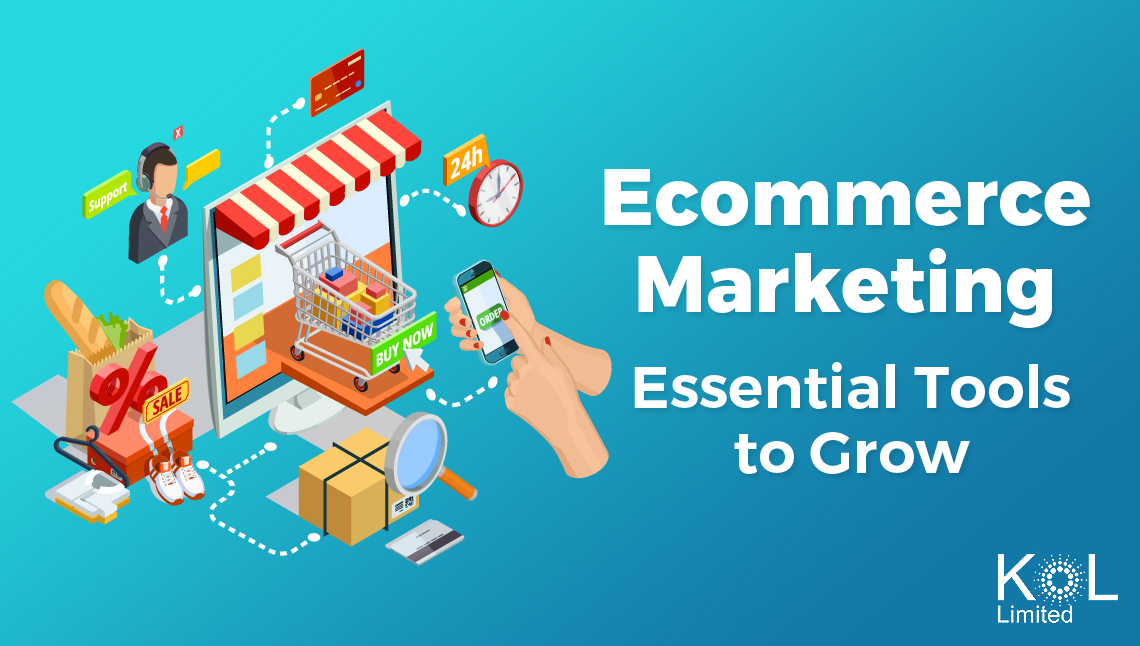 Growing online sales is the biggest challenge that business owners are facing today. This is the reason why e-commerce marketing has become crucial to growing your business on the internet. A winning strategy, result oriented tactics and tools can make your brand stand out and achieve your revenue goals. You will have to utilise the benefits of social media marketing, PPC marketing, content marketing and SEO if you want to achieve success in the online world.

A perfect e-commerce strategy cannot be planned without including essential tools that can do the magic of boosting your business. So here we have a low down on the most popular tools, platforms and tricks for ecommerce marketing.

PPC Marketing
Pay per click (PPC) advertising is the most important tool that needs to be included in your ecom marketing plan. You can get PPC management done for your e-commerce website by a digital marketing agency such as KOL Ltd.

In this type of advertising, when you run ads on a network say, Google, you only have to pay when someone clicks on your advertisement. You can opt for various types of ads such as search ads, display and shopping ads.

Social Media Marketing
Social media marketing is the best tool that you can leverage to grow your business. You can run ads on Facebook, Instagram, Twitter, Snapchat, LinkedIn and Pinterest. This will help generate brand awareness and leads for your business. And then you can run conversion ads to make more sales and achieve success online. Hire a social media marketing agency and reap the benefits of this form of marketing.

SEO
If you want to boost your ecommerce business online organically, you must hire SEO services. The SEO team will update your website by adding relevant keywords for your business. They will also generate backlinks for your website. This in turn will improve your website's organic ranking on SERP.

For search engine optimisation, you can use various tools such as MOZ, SEMrush and more to streamline and boost your efforts.

Email Marketing
The next on our list of tools to grow your ecommerce business is email marketing. It should also be a very important part of your digital marketing strategy. You can connect with your customers directly by sending them product newsletters. A beautifully designed newsletter will ensure more orders and higher sales.

Make your website design engaging with high definition images of your products. Products must have the 'buy now' button to take users to your website directly.

Email marketing has a very high conversion rate and you must have it on top of your plan. You need to keep updating your list of customers for email marketing. This way your network will also grow. You can also segregate your email list as per the purchase history of your customers. Do not forget to personalise the emails. This will help them to effortlessly connect with your brand.

Content Marketing
Along with SEO, content marketing is also crucial to growing your e-commerce website. You need to have a robust content marketing plan. You can hire content marketing services so that they can plan a strategy according to your requirements.

A content marketing company can help you create SEO centric content and distribute the same to the relevant platforms so that the inbound traffic can be generated to your website. They will create blog posts, infographics, etc so that your target audience become aware of your brand.

The content can be written to describe your innovative products, it will help you boost your sales. If content marketing is planned perfectly, you can reap its benefits for years to come.