Have you ever wondered why there is a huge difference between the traffic your site is generating, and the goal conversion rate for your website? This is where we, KOL Limited can make a difference. Conversion Rate Optimisation is a powerful tool which can help increase your Return On Investment (ROI) as never before. Our experts can make a real difference to your revenue with just a few tweaks to your website.
We Maximize Conversion By Converting Your Visitors Into Your Real Customers
As a leading conversion rate optimisation company in London, our experts work closely with you to understand your business and your website, and to accordingly adjust and optimise the features that affect user behaviour. Eyeing your landing page only; focusing on its optimisation, letting your customers walk to your landing page is one thing but still everything is incomplete until the customer clicks "submit", "buy" or the final call to action button. Therefore we always aim to increase the rate at which your visitors convert on your website. We design, develop and test multiple variations of landing pages in order to determine the most successful version before we deliver it to you.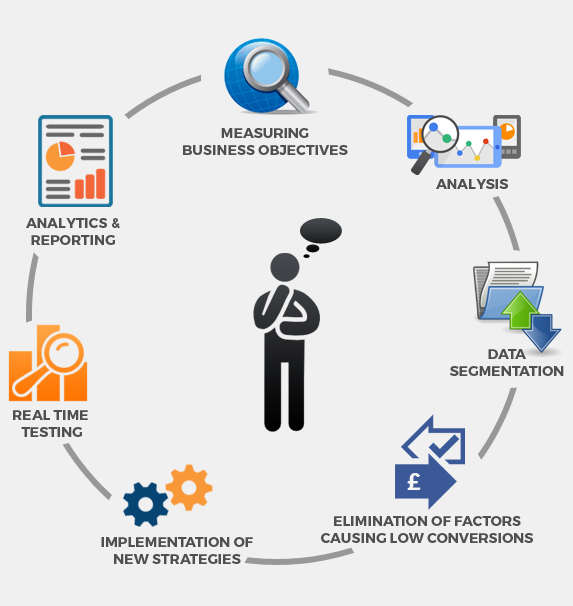 What we actually do?
Presentation+ Great user interface+ Relevant information = Task Accomplished
"You just have few seconds to convert your visitors into your real customers"
Following this principle we put special emphasis on how users perceive your website, product presentation and information.
The user experience part:
Call to action above the fold
Technical bottlenecks
Browser compatibility
Mobile Compatibility
Shopping cart checkout best practices
The product presentation part:
Relevant titles
User friendly call to action
Transparency and trustworthiness
SEO Markup and best practices
The information part:
Great content
Recommendations
We not only add value to your landing pages, we aim to minimize CPA and maximize conversions.