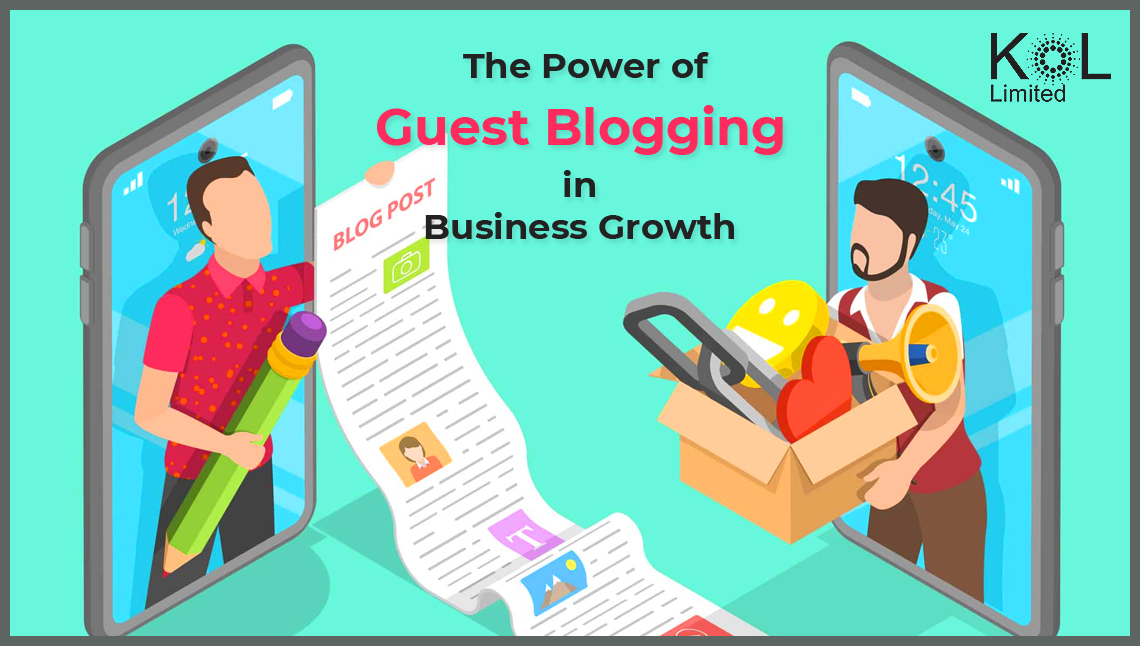 In today's highly competitive digital landscape, establishing a strong online presence and driving traffic to your website, are paramount for business growth. Among the myriad of strategies available, guest blogging stands out as a powerful tool to enhance your online visibility and expand your reach. As a business owner or an SEO company, recognizing the potential of guest blogging and its contributions to your overall SEO strategy is essential. It adds to the efforts of digital marketing services that you have hired.
Guest blogging has the ability to take your business to new heights by unlocking the doors to increased brand exposure, enhanced credibility, and amplified website traffic. KOL Limited offers SEO and digital marketing services, and hence understands the benefits of guest blogging. We are also a leading web design company in the UK.
Let's delve into the remarkable benefits that guest blogging brings to the table, providing valuable insights for leveraging this strategy effectively.
Connecting with Your Target Audience
A fundamental advantage of guest blogging lies in its ability to connect directly with your target audience, enabling you to deliver your brand message to a wider pool of potential customers. Collaborating with influential blogs or websites within your industry grants access to their established audience base, consisting of individuals already interested in your niche or specialized topic.
This targeted exposure allows you to showcase your expertise, share valuable insights, and establish yourself as a thought leader in your field. Through well-crafted guest blog posts, you can effectively communicate your brand's unique value proposition, creating awareness, generating interest, and ultimately driving qualified traffic back to your website.
Looking for an SEO and web design company? Connect with our experts.
Boosting Search Engine Rankings
Another significant benefit of guest blogging lies in its potential to boost your search engine rankings. Search engines value high-quality backlinks from authoritative websites, and guest blogging provides an excellent opportunity to acquire such links. When you contribute valuable content to reputable blogs or websites, you can typically include a link back to your website within the author bio or the body of the article.
These backlinks signal to search engines that your website is trustworthy and relevant, positively impacting your search rankings. Furthermore, guest blogging allows you to strategically target specific keywords and optimize your anchor text. By incorporating relevant keywords in your guest blog posts and linking them back to pertinent pages on your website, you can strengthen your overall SEO performance.
As your guest posts gain visibility, attract traffic, and earn social shares over time, search engines will recognize the growing authority and relevance of your website, potentially leading to improved search rankings for your target keywords.
Building Brand Awareness and Establishing Credibility
Guest blogging offers significant benefits in terms of brand awareness and establishing credibility. By contributing insightful and valuable content to authoritative platforms, you can gain exposure to a broader audience who may not have been familiar with your brand before. This increased visibility fosters brand awareness and expands your reach within your industry or niche.
Consistently delivering high-quality guest blog posts allows you to demonstrate your expertise and industry knowledge to readers. This positions you as a credible and trustworthy source within your field, establishing your brand as a go-to resource for valuable insights. As you contribute valuable content to reputable blogs or websites consistently, readers will come to recognize your name and associate it with expertise, bolstering your brand's credibility.
Additionally, guest blogging enables you to tap into the existing credibility and reputation of the platforms you contribute to. Having your content featured on well-respected websites lends credibility and authority to your brand by association. This significantly influences how your target audience perceives your brand, fostering increased trust and building lasting relationships with customers.
In conclusion, guest blogging plays a pivotal role in business growth by enhancing brand exposure, improving search engine rankings, and establishing credibility. Leveraging this strategy effectively can lead to increased visibility, greater website traffic, and a strengthened position within your industry. By carefully selecting platforms, delivering valuable content, and engaging with your target audience, you can harness the power of guest blogging to propel your business forward in the digital realm.