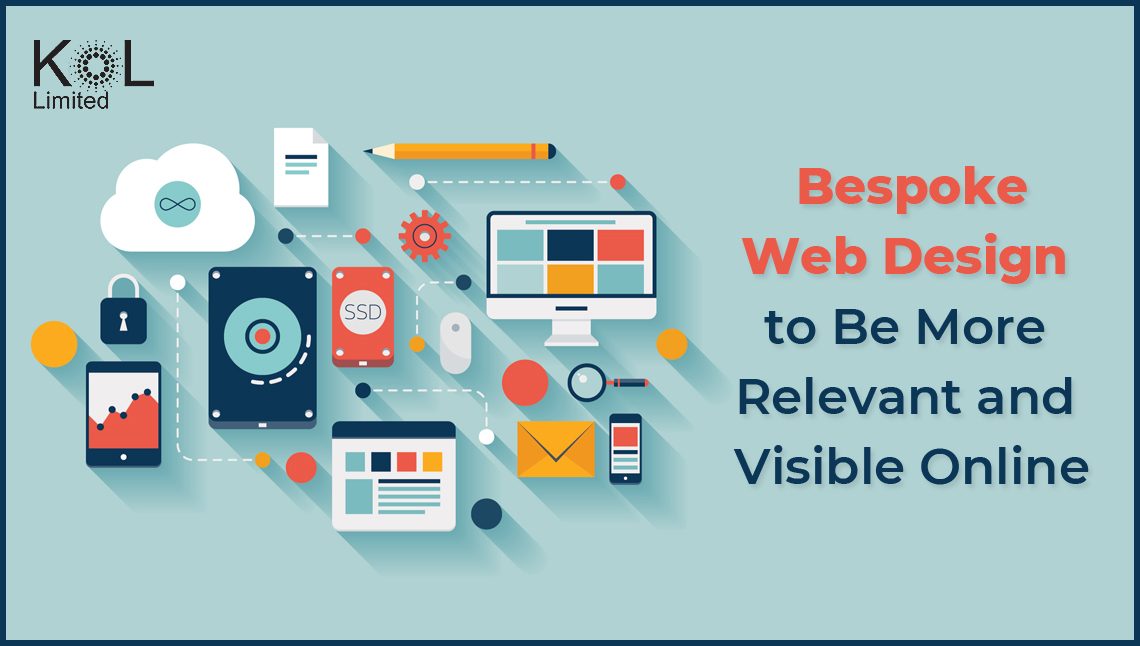 Ready-made web designs and templates are widely used even today to create professional websites. But, do you believe that a template can showcase your business to the world? Do you think that any template can reflect your business just the way you want?
Tailor-made web designs are unique, customized to meet your business needs, and reflect your work. These custom web designs can adapt to businesses and clients, building successful websites to match the brand identity.
Whilst templated web designs are cheaper, quicker, and easier to use, bespoke web designs are done from the scratch. However, it is the ultimate design solution to building interactive and intuitive websites specific to your business purposes and target audience needs.
With bespoke web design, you can also create exclusive websites to fetch customer attention and attain conversion goals.
If you are still confused, let's give you some more details about bespoke and responsive web design. Make an informed choice.
What Is Bespoke Web Design?
Bespoke web design is customized and specifically designed to suit business needs and requirements. Professionals deliberate their time and patience to come up with creative designs as per the theme of the website. Here, the motive and requirements of the website are two important factors to consider. Bespoke websites are also built for specific user bases or purposes.
Throughout the process of designing bespoke solutions, experienced designers focus on the requirements and purpose of the website.
Benefits of Bespoke Web Design Solution
Compared to template website designs, bespoke designs have many advantages. Let us understand further:
Build SEO-Friendly Websites With Bespoke Solutions
SEO is the core of website ranking on search engines. Websites designed with SEO standards can leverage your business. Only bespoke designs can help you achieve that. Website designers ensure that websites perform better on search engines and the internet. Focusing on the following aspects, they create SEO-friendly websites:
CMS
Link Structure
Indexing
Information architecture
Speed of page
Responsive website design (for mobile devices)
Image/video optimization
Whilst template websites can deliver inbuilt solutions, you cannot get optimal results. Only bespoke solutions with responsive web development can deliver superior results.
Quick Loading
Did you know that if a website load time is delayed by a second, it may lead to 7% conversion loss, 16% reduced user satisfaction, and at least 11% fewer page visitors? Hence, it is critical to consider the loading speed of a website.
Experienced bespoke website designers know exactly how to create fast-loading websites to retain users and provide an exceptional experience. To achieve this, web designers should implement some of the following tactics:
Use adaptive images
Optimize images
Minify and combine files
Audit page speed
Compress content
Templated websites have a slow loading time due to abundant functionalities. Even when the non-essential functions are disabled, you cannot get an optimal speed.
Responsive Website Design
When you are building a website, make sure it is responsive to mobile devices. A sizeable group of people is mobile users. Hence, it is very important to tap their attention with creative and responsive website design.
If you choose to ensure complete responsiveness of the website across all devices, bespoke design is the only solution. Designers carefully chalk out a plan entailing different aspects like:
Website layout
Performance enhancement
Responsive images used
Responsive formatting
Progressive development
JavaScript media queries
When a website is fully responsive, you offer a consistent experience to users on different devices like mobiles, tablets, and laptops.
Advanced Development
As the business grows, the website has to be changed in various aspects. It is crucial to adapt the site according to the business needs. Bespoke websites open new avenues for future expansion and improvement because it was developed right from the scratch.
When you choose a bespoke design, you can also add more features as well as functionalities to the website. You can also integrate the ERP system, CRM, bar-coding system, additional methods of payment, sage accounts, and other functionality or characteristics necessary for business expansion.
Latest Adaptation
Bespoke web designs follow the latest trends in the tech business to ensure websites have updated functionalities. Cutting-edge tools, techniques, trends, and programming language makes these websites relatable. The interface also allows users to connect easily, which is very important. Keeping users hooked to the website to make sure they engage and convert is the key.
Maintenance
Maintaining a website is very critical. It not only ensures excellent functionality but also keeps the website up-to-date. With bespoke design from a reputed web development company, you can expect timely troubleshooting and support whenever needed. Any issues that you encounter or any new functionality that you want to integrate, the proficient team of web design company can help.
Final Word
Whether you want an eCommerce responsive website or simply want to boost the online presence of your business, have a unique web design. Create a stellar online presence with powerful and beautiful tools. Bespoke is an exceptional way to create your business website. Choose a reliable website development company to design your vision. At KOL Limited, we have a proficient team of bespoke designers to make your dreams come true.